Updates on stories I've presented
As we say goodbye to November, here is a summary of November news items that add to, echo, or relate to, past posts from my blog.
1. Tea Partier fears about being in China's debt
On November 11th, I published an essay on the blog: Beijing's Marshall Plan for the U.S., about the weird China-U.S. economic relationship and the domestic uneasiness, tension, even rage, it's causing, and how it's driving Tea Party activism on the debt and deficit.
That day, video came out from Sarah Palin's Nov. 9 speech at the Iowa Faith and Freedom Coalition, and her "this isn't racist, but…it'll be like slavery when that note is due. We are going to beholden to the foreign master [China]" comment got lots of attention in the news cycle. Unfortunately, the "this isn't racist, but" quip was like a flashing, neon sign "ATTACK RACISM HERE" and media took the bait: it was deliberate, jiujitsu messaging, suddenly the media is delivering a message about Palin and about the left to her specific audience without even knowing they're doing it… diabolically clever. She is constantly doing backhanded ways of delivering red meat to her base via outrage-peddling news media, in this case Palin's delivering the message "I hate the racism police too, I'm like you" with media doing the delivering for her. So, with the journalism guard dog pointlessly chasing a car, debating whether the word slavery is inappropriate (I'd say it is very inappropriate when being used for publicity-baiting but the concept of "debt slavery" merits legitimate discussion) and batting about different ahistorical viewpoints, the China part of the comment was lost in most media accounts.
This is the meat of the comment:
"Our free stuff today is being paid for by taking money from our children and borrowing from China… when that money comes due – and this isn't racist, but it'll be like slavery when that note is due. We are going to beholden to the foreign master."
Here's a video of the comment in context:

You can also watch/hear the video of Palin's speech in its entirety.
This underlines the points I made about the anxiety around potential "debt peonage" to the PRC. The structural long-term debt isn't the only issue, which liberals need to understand. Right now the left talks past the right and visa versa, ships passing in the night, liberals and liberal-ish budget wonks are saying that the deficit is on track to be a historically low 2% of GDP, when, for the Tea Partier grassroots, the real crux of the matter is being "beholden to the foreign master," and whether we are beholden by $200 billion or $200 million is immaterial or, at least, the numerical specifics of the debt are not as important to many on the right as WHO we're in debt to. The dependence on (economic and military rival) China raises very legit problems for "American exceptionalism." It makes a paradigm shift that topples the U.S.-led unipolar economic and military order a real possibility for this generation of U.S. leaders down the road a decade or two, not just anxieties for the great-great-grandchildren.
An effective liberalism would address the fears of debt-slavery under a foreign jackboot head-on. I hope actual dialogue can happen instead of the continuous talking past each other, engaging on completely separate issues.
The 11 cultural "nations" of the United States: diversity (and devolution?)
The new book describing the 11 nations or socio-political cultures that rub up against each other in North America (Mobile should be categorized with "New France") being frequently blogged about in November, brought to mind an essay I blogged in May 2010, one of my more vitriolic posts after the Affordable Care Act passed several months previously and the Tea Partier groundswell was peaking, a post chock-full of ranty disillusionment: Nick's Essay on America's Decline, with Big Solutions.
Given our system's seeming inability to seriously address national problems, with the tepid, insurer-friendly ACA nearly impossible to pass as "too socialist," I offered three "big solutions," 1. strictly banning bribing candidates with "contributions" 2. Proportional Representation via STV ("Instant Runoff Voting") 3. if all else fails, let states group themselves into federated republics with near-complete autonomy on domestic policies like super provinces (still within the United States) for each regional political culture. My concept is similar to devolution as done in Spain (Catalonia, to name one such region, is given broad powers to govern itself). Federal Republic of Central America should be noted as an example of what not to do.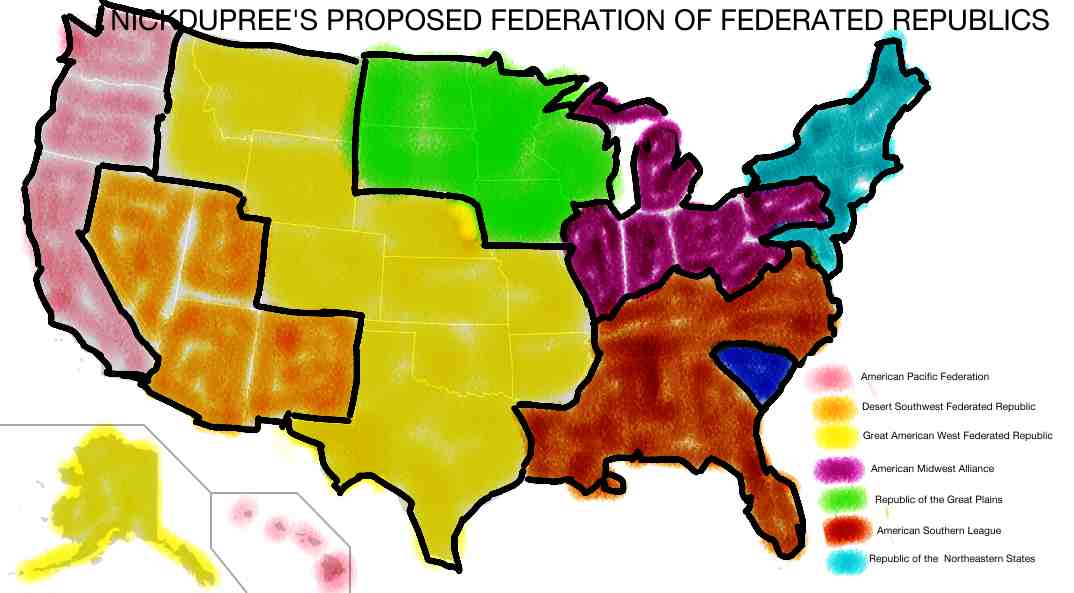 My map, instead of the 11 cultural nations, has seven federated republics and South Carolina. If nothing else, the essay takes on the serious difficulties with our federalist system directly, difficulties that too often get swept under the rug.
Note: I'm different from the Nick that wrote the "Big Solutions" essay almost three years ago. My views aren't necessarily less vehement, I still dislike the ACA for what it doesn't do, and I still think root-and-stem reforms and big constitutional questions should be foreground issues, I'm just more interested in understanding and dialogue than before, more keen to write things that further understanding of ideological opponents than to write diatribes like the one above. Though I still want to cry out against injustices, I feel an urge to love (and grok) thy enemy, and get a grayer, less absolute picture of reality. With that shift, I look back on the South (and Mobile in particular) with increasing fondness as I reflect on the good things that came with the bad.
Religious Literacy and Understanding
In the first weeks of November, The Atlantic's post Study Theology, Even If You Don't Believe in God by Tara Isabella Burton was widely shared and blogged about, and I highly recommend it. Burton's piece is the most powerful and succinct defense of studying theology I've seen to date, an excellent refutation of recent calls (from Richard Dawkins, et al) to deep-six theology departments in UK universities as he doubts theology offers "any real content at all, or that it has any place whatsoever in today's university culture." Burton nails it with the assertion that theology offers a unique "opportunity to get inside the heads of those whose beliefs and choices shaped so much of our history, and who—in the world outside the ivory tower—still shape plenty of the world today." This piece really re-enforces what I was saying in my 2010 essay Religious Literacy and Understanding, For Our Own Sake,
where I argued:
You can't really form productive relationships with many every day folk in the U.S. (nor Mexico, South America and Africa) if you're completely ignorant of Christianity, and, increasingly, its more charismatic groups, which are seeing explosive growth. Unless you can get where people are "coming from," you won't understand them, and the spiritual is a huge part of that. The spiritual will always become more a focus when material things fail, and they are failing on a massive scale unseen since the '30s.

As the U.S. falls, others prosper. You can't understand what is going on in China right now (their return to their once-familiar role as #1 global superpower) if you have no clue what Confucianism is, and the role it is playing in Chinese policy and politics.

You can't understand how cultures across the globe are responding to the rapid changes happening, a revolution in technology and society and the economy unprecedented since the Industrial Revolution, without religious literacy.
click here to read the rest of the essay
In a world that is roughly 80% religious in some form, religious illiteracy isolates you. Burton's article goes even deeper; if you only have time to read one link from this post, read her essay, especially if you're in an academic field.
50th Anniversary of JFK's assassination
November 22nd marked 50 years since President Kennedy was assassinated in Dallas. My 2008 blog post about Lee Harvey Oswald speaking at Spring Hill College in Mobile mere months before the assassination, explaining Soviet life to Jesuit scholastics gathered in the rotunda, may give you some new insights into this surreal story. I've added a recently published study of Oswald's time in the USSR to give the post better backing.
Hello December,
Nick