You may or may not know about the medical model and the social model of disability.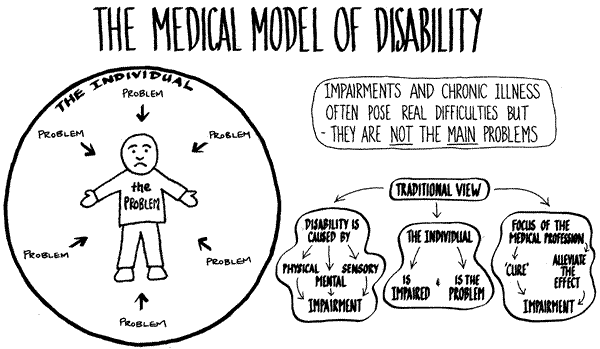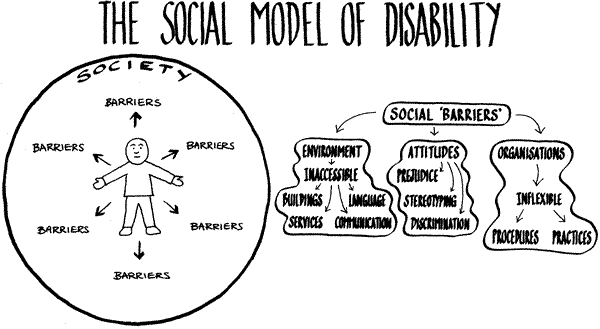 I wanted to talk about the social model of services and supports for people with disabilities, and barriers to implementing it.
When you think about disability internationally, most disabled people in countries around the world are taken care of by their own families and their own communities. In Alabama, where I'm from, and in many of the poorer states, they didn't get the medical model at all until federal funding in the 1960s. Prior to that, all you had was a kind of quasi-social model, with families and neighbors taking care of their disabled children, the same way they did in the 19th century and from time immemorial. A new social model of services and supports would essentially work like an enhanced version of that, with disabilities normal phenomena that communities live with and provide for.
In the first world countries, as families are working almost entirely outside of the home, they have no recourse but to use government services to help take care of their disabled children and adults. In Alabama, the attitude is that the most harsh, spartan medical model is all they can afford, and that they can't afford to innovate. They have missed an opportunity to save money by re-imagining a social model that would put the power back in the hands of families and people with disabilities, instead of forcing them to spend on treatments that the medical model wants for them.
Across the country, budget cuts are removing the medical model more and more from our lives, because the states can no longer afford the kind of medical services that they've been paying for. The medical model won't be the force it has been without enough public funding. So there's more need than ever to implement a new social model of services and supports. In one of the conferences that I attended (TASH Boston '02) there was a session on what drives people to put their loved ones into nursing homes. And the number one reason found in studies was that when someone becomes incontinent of bladder and bowel, the family doesn't want to deal with it, and puts them in a facility. There was one story where a mother wanted to put her autistic son in a facility just because he couldn't figure out how to zipper his pants, though he could otherwise engage in self-care. This is the institutional bias, up close and personal, and it is ridiculous. We can no longer afford to put people with disabilities in segregated, medical model institutions. The funds saved by turning the institutional bias on its head and closing more of these terrible, outdated, freedom-killing institutions is great. We can't afford these awful dinosaurs financially, and we can't afford it in the human toll, in the human potential and spirits that are locked up.
To escape that fate of being put away forever in a nursing home, I had to fight Alabama Medicaid policies that would cut off home care services at age 21. My campaign, Nick's Crusade, led to the Dupree v. Alabama Medicaid lawsuit, which used the Olmstead decision to end the practice of Alabama cutting off ventilator dependent people from in-home services once they turned 21. It was a victory that helped half a dozen people stay in their homes, but it didn't solve the underlying problem, that even in the home, the medical model of home nursing care tends to segregate, restrict and limit the liberty and potential of people with disabilities.
I ended up having to leave college because of problems with home nursing care, and eventually I began to outlive my family's ability to take care of me, and ended up relocating to New York City in August, 2008. Because of difficulties getting home care approved and started, home nursing agencies that are dysfunctional and cruel, and relentless ablism faced by me and my partner Alejandra, my first 378 days in New York were spent in a city rehab hospital. It was my first stent in a facility, and I learned a lot about the system that keeps unnecessary institutionalization going and told the world in The First Video Blog Series From Inside An Institution In History. Make especially sure to watch my videos What Life In An Institution Is Really Like, And Why This Entire Model Should Be Replaced and Too Many Setbacks To Count (about the barriers and delays to getting home, with music).
Because Alejandra and I love each other, we made the decision to spend our lives together, as many people with and without disabilities do. However, most people with disabilities living in the U.S. run into the so-called "marriage penalty" if they receive federal Social Security benefits, which are reduced by one-third if two recipients marry. Choosing to declare our commitment to each other despite this policy, we held a commitment ceremony in Central Park on June 6, 2010. It was also an opportunity for others in the community to learn about and share their experiences with this injustice.
Getting the supports needed to maintain my health and safety, attain freedom to access the community and resume college remain problematic. I write and draw webcomics, such as Theodore Roosevelt and the Rough Riders vs. Zombies. I was going to show my work from a table at the MoCCA Festival, and ended up canceling because we didn't have the help for getting me up in the chair and out to the festival. For me as a disabled man, "freedom," means that I have good caregivers around me that can help me do stuff. Without those people, I'm stuck in my room at best, and, at worst, dead.
Nurses, personal care attendants, and other home caregivers will always remain enormously important in any model because in first world countries the cost of living is high, and thus the people doing the bulk of the care will be the ones who can do it without losing their apartment. Paid supports should be budgeted by the disabled person (see individualized budgets and the Cash & Counseling program) so that both the caregivers and the patient aren't constantly battling middlemen–agencies and Medicaid, and so the patient can give their best staff higher pay and bonuses. This essay isn't meant diminish the importance of nurses and PCAs but to re-imagine them as part of a support community that form around people with disabilities; with families and communities that refuse to shelve their people in prison-like nursing facilities, that refuse to use a strict, heartless medical model inside the home, that say NO to materialism and profiteering, and instead focus on care and caring. Personal care is incredibly intimate and sensitive, caregivers see and touch and care for wounds, deformities and vulnerabilities that no one else sees, this is soulful and special work; it should never be callously commodified or turned into a cold assembly line in a nursing facility. The people who are good at going into someone's home and making them clean, comfortable, giving them care and freedom, are very special people. In a new social model, friends and neighbors of the disabled person partner with and lend their support to these special caregivers, helping them and assisting them to assist their patient. The caregivers in turn helping the friends to help their patient. They care about each other and collaborate to help the disabled person. The community loves and supports each other.
Relying on Medicaid to give me ALL the assistance needed to live a real life in the community will always be difficult as long as Medicaid is locked-in to the medical model. It's near impossible without friends and volunteers in your community lending some support. What is needed is the social model: normalization of disability: for society at large to start seeing people with disabilities as equal members of families and communities, instead of undue burdens. If someone in the community had cared about the kid who couldn't manage the zipper on his pants, he wouldn't have been at risk of institutionalization at great cost to his community. If the community would give their time and love more, we'd need Medicaid, the increasingly dark, Kafkaesque bureaucracy that pays for services for disabled people, less.
There are plenty of ways for the community to support people with disabilities. When I was hospitalized for several months in early 1992, Bettie Hudgens, the founder of the Communications department at Spring Hill College, where my mom taught, created a sign up sheet so that volunteers would visit me every day, so I would have someone checking in on me during the hours mom was teaching. The signup sheet allowed the community to organize around me so that every day was covered. We need that kind of community building now more than ever.
Communities will eventually be forced to choose, will they pay more and more for Medicaid as its red tape continues to render it hilariously dysfunctional like a Soviet department, or will friends and neighbors pitch in to help the elderly get in and out of bed, and change soiled clothes so they wouldn't have to be segregated in institutions, so their people with disabilities will have less involvement with the heartless Medicaid bureaucracy and be less exposed to the whims of the politicians that fund them. It's up to us to implement a new social model, as the old models begin to collapse.
Nick