When I wrote Saints commentary as the "Swami of the Swamp"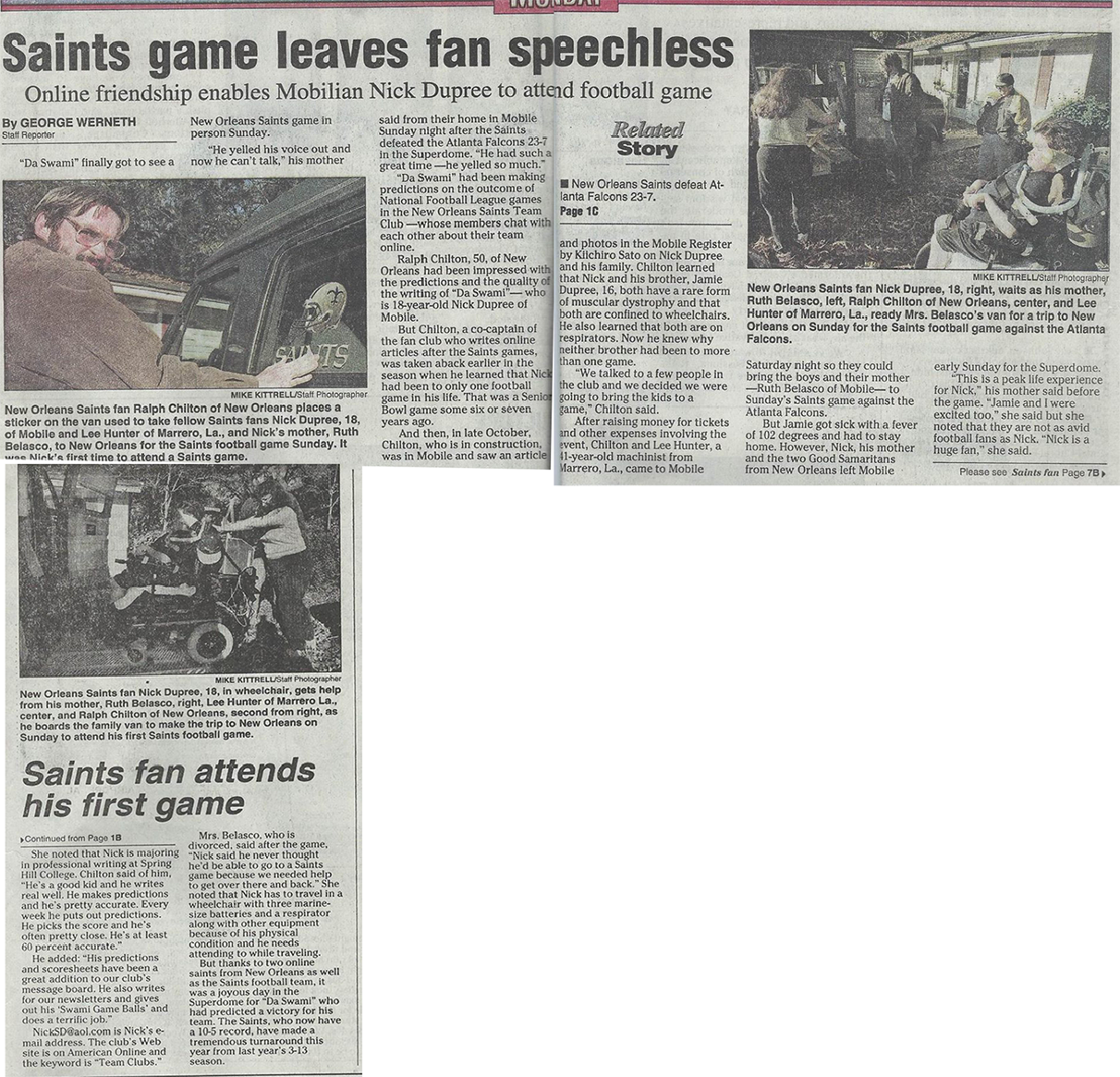 Special thanks to Lee ^ for unearthing this article from his archives and taking the time to scan it for me
(Click to embiggen image of newspaper article)
This Superdome trip, my one and only visit inside da dome, really was a peak life experience for me.
Watching a live NFL game from the sideline may have some disadvantages compared to TV; you may not see everything that the quarterback does or every big play, but has major advantages. Being in the Superdome in person allows you to see so much more of what happens away from the ball. For example, I could see how the flying daredevil secondary of the 2000 Saints team—Fred Thomas at corner, Sammy Knight and Darren Perry the safeties, Fred Weary the other corner—covered opposing receivers deep downfield, doing acrobatic no-handed leaping half-climbs off their opponents, hands engaging the sky to potentially disrupt or intercept enemy passes. This is something that the TV coverage usually shows from high and distant angles if at all.
Being there let me soak up a ton of details, especially seeing one of our best defenses ever flying around, helmets gold and gleaming like Roman gladiators.
Other things you can't get from TV are the cheerleaders, who actually do a great deal to manage the raucous home crowd, actually leading cheers. They signal everyone to get on the same page yelling DEFENSE when the defensive squad needs your support or YAY OFFENSE or whatever when that is proper; they're always helping the crowd stay engaged and in sync. The "Saintsations" cheerleaders are just as rehearsed and choreographed as the football team: the offense and defense go through their sets and the team's cheerleaders go through theirs.
And it was really cool seeing the opening ceremonies, the introductions, the jazz band blasting "When the Saints Go Marching In" with the WHODAT cheer tacked on at the end, and the colossal colosseum THE SUPERDOME itself.
I can write a lot about the Saints game, their 10-6 epic 2000 season, the dome, but what I remember most fondly is the respect and support of the guys. They acknowledged my football nerd acumen and writing skills, and didn't view as impossible the actual doing stuff to help me and Mom get that van the 90 miles to New Orleans.
What I did and created in the community mattered; it wasn't just another "Tiny Tim inspires, receives charity" human interest story.
I once heard "recognition is the greatest healer." My Saints-related writing getting front page recognition in the Mobile Register definitely felt great. This experience still means a lot to me.
Freakin' A–O–helL deleted our boards, and most of my Swami of the Swamp posts and predictions were lost. I miss my Saints community.
Maybe the SWAMI columns can return to the internets in some way in the future…
Nick