This 1986 Press-Register article about me, Jamie and Mom, especially Jamie, surviving the rare disease, was digitized by my Aunt Nancy in Virginia. Thank you.
Mom gave me permission to post this here. It's so old the newspaper was still called the PRESS-REGISTER!
Back then the medical knowledge and approach to mitochondrial myopathies was much broader/more vague to say the least, and our carnitine deficiencies resist supplementation. We are certainly even rarier than 28 in the world. Today's definition of mitochondrial myopathy largely excludes us, and metabolic medicine has de-listed carnitine deficiency as a distinct disease. It is now considered a symptom.
It's my hope the article could help confirm my story about our unusual diagnosis, exceptionally uncommon for the time to put it mildly. And that the article could also somehow help other weird metabolic children….
Transcription of the article's text below
Thanks to Alejandra for copying it down.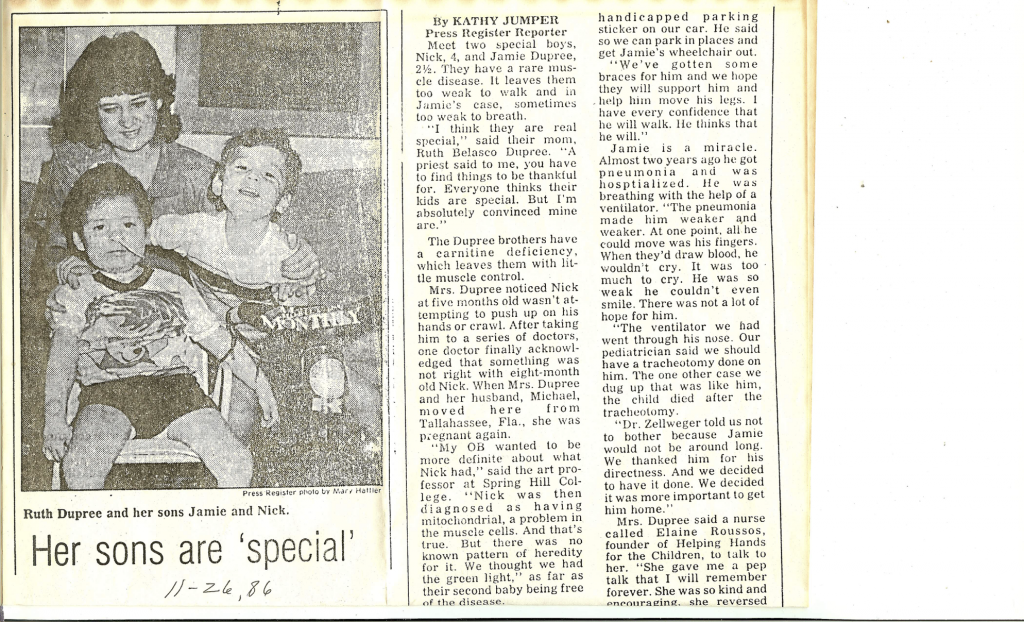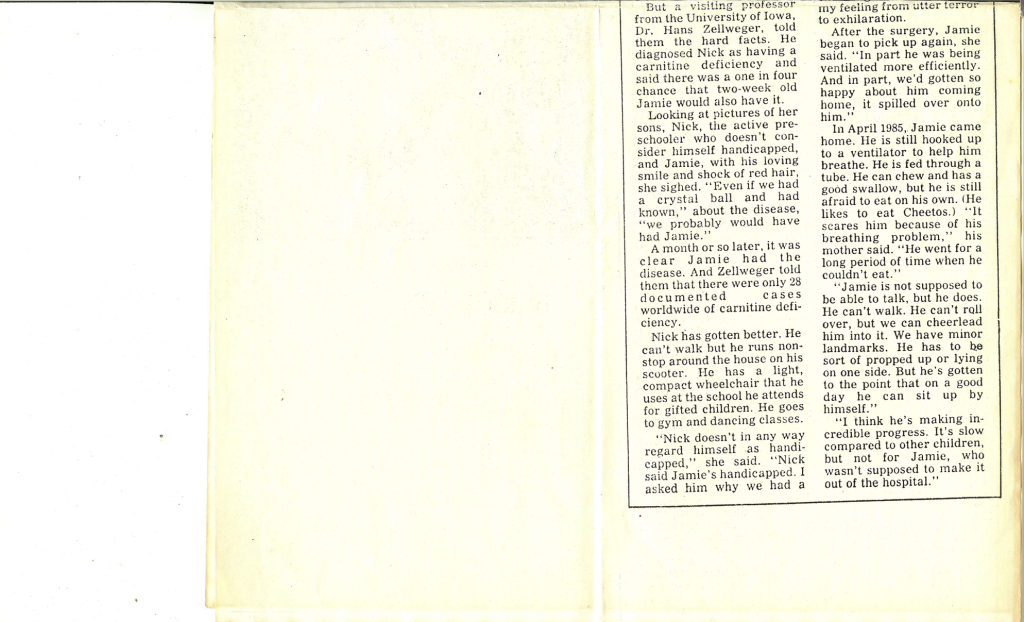 11/22/86

Her sons are 'special'

Photo caption: Ruth Dupree and her sons Jamie and Nick.

By KATHY JUMPER
Press-Register Reporter

Meet two special boys, Nick, 4, and Jamie Dupree, 2 1/2. They have a rare muscle disease. It leaves them too weak to walk and in Jamie's case, sometimes too weak to breathe.

"I think they are real special," said their mom, Ruth Belasco Dupree. "A priest said to me, you have to find things to be thankful for. Everyone thinks their kids are special. But I'm absolutely convinced mine are."

The Dupree brothers have a carnitine deficiency, which leaves them with little muscle control.

Mrs. Dupree noticed Nick at five months old wasn't attempting to push up on his hands or crawl. After taking him to a series of doctors, one doctor finally acknowledged that something was not right with eight-month old Nick. When Mrs. Dupree and her husband, Michael, moved here from Tallahassee, Fla., she was pregnant again.

"My OB wanted to be more definite about what Nick had," said the art professor at Spring Hill College. "Nick was then diagnosed as having mitochondrial , a problem in the muscle cells. And that's true. But there was no known pattern of heredity for it. We thought we had the green light," as far as their second baby being free of the disease.

But a visiting professor from the University of Iowa, Dr. Hans Zellweger, told them the hard facts. He diagnosed Nick as having a carnitine deficiency and said there was a one in four chance that two-week old Jamie would also have it.

Looking at pictures of her sons, Nick, the active preschooler who doesn't consider himself handicapped, and Jamie, with his loving smile and shock of red hair, she sighed. "Even if we had a crystal ball and had known," about the disease, "we probably would have had Jamie."

A month or so later, it was clear Jamie had the disease. And Zellweger told them that there were only 28 documented cases worldwide of carnitine deficiency.

Nick has gotten better. He can't walk but he runs nonstop around the house on his scooter. He has a light, compact wheelchair that he uses at the school he attends for gifted children. He goes to gym and dancing classes.

"Nick doesn't in any way regard himself as handicapped," she said. "Nick says Jamie's handicapped. I asked him why we had a handicapped parking sticker on our car. He said so we can park in places and get Jamie's wheelchair out.

"We've gotten some braces for him and we hope they will support him and help him move his legs. I have every confidence that he will walk. He thinks he will."

Jamie is a miracle. Almost two years ago he got pneumonia and was hospitalized. He was breathing with the help of the ventilator. "The pneumonia made him weaker and weaker. At one point, all he could move was his fingers. When they'd draw blood, he wouldn't cry. It was too much to cry. He was so weak he couldn't even smile. There was not a lot of hope for him.

"The ventilator we had went through his nose. Our pediatrician said we should have a tracheotomy done on him. The other case we dug up that was like him, the child died after the tracheotomy.

"Dr. Zellweger told us not to bother because Jamie would not be around long. We thanked him for his directness. And we decided to have it done. We decided it was more important to get him home."

Mrs. Dupree said a nurse called Elaine Roussos, founder of Helping Hands for the Children, to talk to her. "She gave me a pep talk that I will remember forever. She was so kind and encouraging, she reversed my feeling from utter terror to exhilaration.

After the surgery, Jamie began to pick up again, she said. "In part he was being ventilated more efficiently. And in part, we'd gotten so happy about him coming home, it spilled over onto him."

In April 1985, Jamie came home. He is still hooked up to a ventilator to help him breathe. He is fed through a tube. He can chew and has a good swallow, but he is still afraid to eat on his own. (He likes to eat Cheetos.) "It scares him because of his breathing problem," his mother said. "He went for a long period of time when he couldn't eat."

"Jamie is not supposed to be able to talk, but he does. He can't walk. He can't roll over, but we can cheerlead him into it. We have minor landmarks. He has to be sort of propped up or lying on one side. But he's gotten to the point that on a good day he can sit up by himself."

"I think he's making incredible progress. It's slow compared to other children, but not for Jamie, who wasn't supposed to make it out of the hospital."